New Billennium office in Lublin
Billennium, Polish IT company making its mark in history for fifteen years and employing over 500 specialists in five offices in Poland and subsidiaries in India and the USA, has opened a new, larger office in Lublin.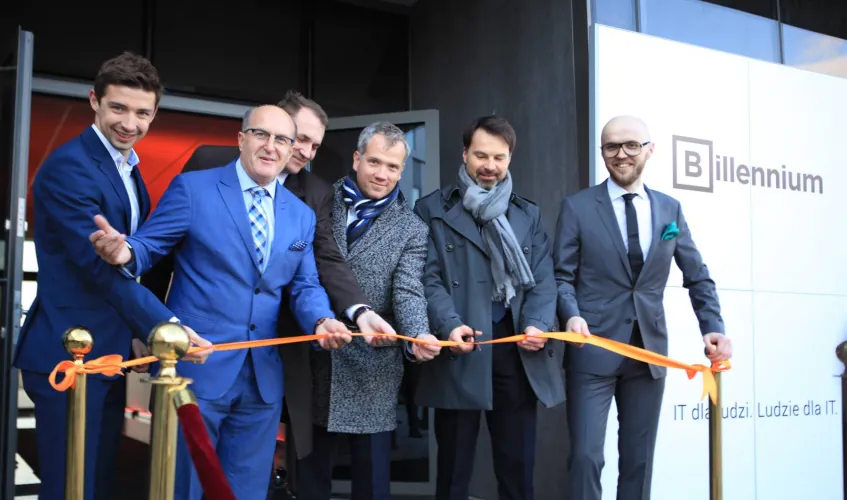 Since 2011, Billenium has been running its business in Lublin, where its headcount is currently 200. "We find Lublin particularly attractive. It is a city with which we have established a special relationship. We chose Lublin to open our largest subsidiary, which we are continuously developing. We intend to employ another one hundred members of staff by late 2017" – says Bartosz Łopiński, CEO of Billennium.
"Opening a new seat is an event of great importance. The office space we got designed meets our employees' needs and requirements. This place is creative, user-friendly and helps its users come up with new ideas. Any guests are welcome here.We exist to cross boundaries and create innovative solutions – as we want our contractors and guests feel this vibe in our offices, our working spaces provide pristine conditions supporting creative thinking, the creation process, and looking at different aspects from various perspectives. Our staff is the driving force behind our offices. For this reason, communication is of utmost importance in our employees' independence. Our philosophy is founded on integrity, cooperation, and fun. It is also of considerable significance for us to make our offices environmentally friendly and harmonious with nature and the environment. Due to this, we prioritize daylight, grow plants, and make sure that fresh air circulates properly. The greenery not only helps your eyes relax and produces oxygen but it also purifies and ionizes the air as well as adds moisture to indoor air. Moreover, all our offices in the world are designed in the same manner – common brand identity not only allows us to be distinguished but it also ensures uniformity in all aspects, including our work" – says Marek Drob, Service Delivery Director, Billennium Lublin. "We are proud of what we do and where we do it." –  adds Drob.
The size of Billennium office is 2,669 square metres; two hundred employees will move in to the newly-created space on Friday, 21 April. 350 members of staff can work in our office in which, by late 2017, another one hundred will have been employed.
The A-class building in which Billennium has its new office is a part of modern commercial and service office park of total size of 80,000 square meteres, located in one of the most rapidly developing estates in Lublin, Węglin Południowy. The premises are situated in close proximity to well-developed transport hub offering several bus connections and easy access by car.