Nocowanie.pl and Wirtualna Polska with a new office
Joined forces of Poland's largest accommodation portals Nocowanie.pl and eholiday.pl, plans for growth of Wirtualna Polska in Lublin and new hires – these are just some of the issues raised during a press conference held on the occasion of the opening of the companies' new office.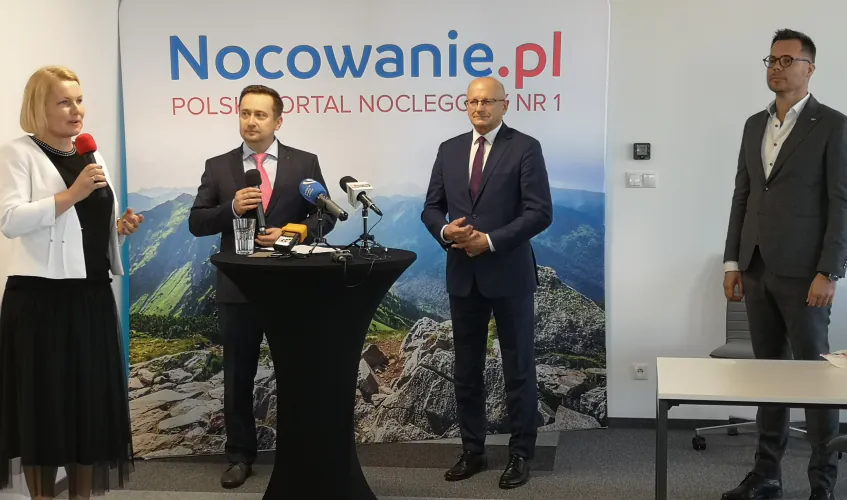 At the conference, CEO of Nocowanie.pl, which is part of Wirtualna Polska Holding, explained the rationale behind the merger of his company with eholiday.pl, informed about the current situation on the tourist market and how the company has overcome the challenges created by the pandemic.
One of the milestones for Nocowanie.pl was the investment of Wirtualna Polska in our company. Together, for the last 4 years we have doubled our employment and managed to increase our income more than three-fold. It is in Lublin where the company wants to continue its growth and increase employment., Kamil Ruciński, CEO of Nocowanie.pl.
In view of the pandemic, the most difficult period for the company was the spring time, when tourism in Poland almost came to a standstill for about 2 months. Fortunately, since August the situation has improved and thus, the company is now looking for IT professionals, sales specialists, and online marketing people.
What we're especially proud of is the fact that about 95% of Lublin's graduates of IT and IT-related courses find employment in Lublin-based companies. It is really important that the city meets young people's professional expectations in terms of career development and financial aspects. What's more, I'm glad to see the partnership of Wirtualna Polska and Nocowanie.pl, since having a big partner allows you to increase the competitiveness on this difficult market.", Mayor of Lublin Krzysztof Żuk.
Wirtualna Polska has 4 offices in Poland and give job to almost 2,000 people. Besides Lublin, the company operates in Gdańsk, Warsaw and Wrocław. The new office is home to editors of services like abc Zdrowie, parenting.pl, WP Kuchnia, WP Kobieta, Pudelek, and professionals working in the Online Video Department of Wirtualna Polska. As mentioned during the press conference, the most precious asset of the company is its loyal people.
Why is Wirtualna Polska so interested in Lublin? As the largest Polish online company Wirtualna Polska is also one of the biggest employers in this business and there is not a single city that can meet our demand for talent. Considering that there are more than 60,000 students at 9 universities and colleges in Lublin, I hope that some part of them will ldecide to start their career at Wirtualna Polska. (..) We have great expectations for our future in Lublin, Jacek Świderski, CEO of Wirtualna Polska Holding
Established in 2005, Nocowanie.pl is one of the largest databases of accommodation offers in Poland, with more than 3 million tourists using the portal every month. The database contains over 63k offers of various types of accommodation in Poland and Europe. The company constantly strives to introduce modern services and technologies both for tourists (safe payments, virtual tours) and owners of hotels, guest houses, inns, agri-tourist farms and private houses (mobile app for managing reservations and communicating with tourists). Now, together with eholiday.pl, the company becomes a country's leader in terms of a number of offers available on the portal.
Starting with a tiny 10 sqm office, moving to increasingly bigger premises, now with over 100 people onboard Nocowanie.pl ended up in a brand new office of 1,400 sqm in A-class CZ Office Park A building. Interestingly, the new premises were designed by representatives of the company themselves and correspond to the type of its business activity – rooms and spaces are named after the most popular tourist destinations in Poland, while wallpapers depict landscapes of these places.