PARP supports innovation
Innovation is a key determinant of long-term growth and productivity. Supporting innovation of micro, small and medium-sized enterprises is particularly important as very often they are constrained in their innovative activities because of lack of financing. The Polish Agency for Enterprise Development (PARP) is involved in the implementation of several national and international programmes financed from the EU structural funds, state budget and multiannual programmes of the European Commission. In all its activities the Agency places a strong emphasis on the needs of the SME sector.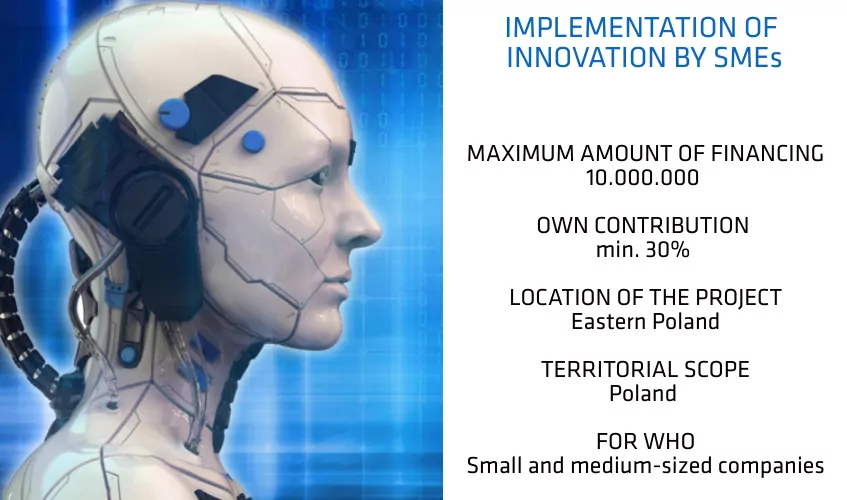 One of such initiatives is a recently launched 'Implementation of innovation by SMEs' competition. As a part of the project, micro, small and medium-sized enterprises, which perform an economic activity in Poland, may receive a maximum of PLN 10 million for the development and implementation of innovative processes, products or technologies.
Support may be allocated to:
purchase or production of fixed assets – machinery and equipment, production or technological line,
purchase of intangible assets in the form of patents, licenses, know-how and other intellectual property rights
purchase of advisory services to prepare for implementation
financing the establishment and maintenance of a security for the advance
Support will amount to a maximum of up to 85% for consultancy services and up to 70% for investments, which means that your contribution will be at least 15% of the costs of project consultancy services and 30% of the investment costs. The minimum value of the eligible costs of the project is PLN 1 million. The amount of funding is determined on the basis of the regional aid map for 2022-2027 (representing the percentage of costs eligible for regional aid). Companies from eastern Poland, i.e. Warmińsko-Mazurskie, Podlaskie, Lubelskie, Świętokrzyskie and Podkarpackie voivodships, have a chance to obtain the greatest resources.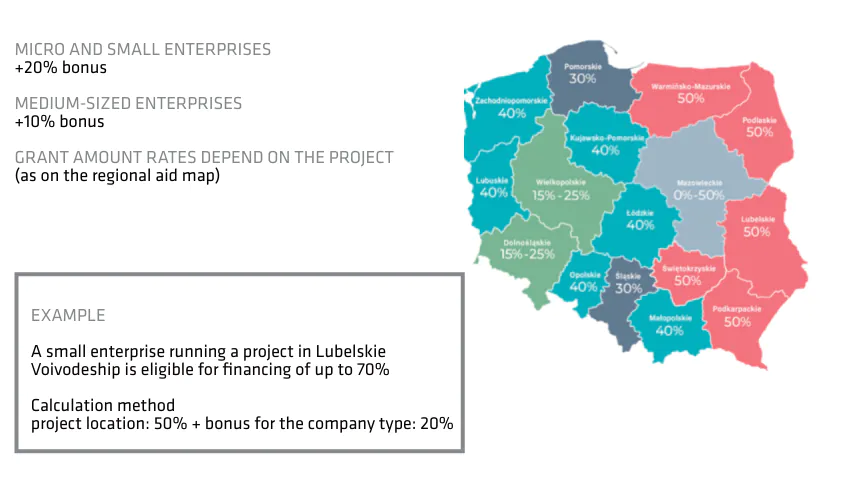 Financial support may be provided to micro, small and medium-sized businesses from Eastern Poland macroregion, which:
during the 3 years prior to the submission of an application, achieved revenues of not less than PLN 600,000 in at least one financial year.
have belonged to a supra-regional cooperative association (min. 5 companies  cooperating with each other in related industries, from at least two voivodeships, including one from Eastern Poland) for at least 6 months and have operated for at least a year
As part of the competition, it is possible to obtain a grant of a maximum value of PLN 10 million. The total pool of funds in the competition is PLN 30 million. Preference will be given to investments implementing the results of R&D works with innovation, at least on a national scale and with a positive impact on the principle of sustainable development. In addition, projects that contribute to employment growth will also be rewarded.
All necessary documents and full contest rules are available at https://www.parp.gov.pl/component/grants/grants/wdrazanie-innowacji-przez-msp