Pilot edition of 'Entrepreneurial Youth' project behind us!
The 'Entrepreneurial Youth' project, organized by the Lublin City Hall and the Maria Curie-Skłodowska University in Lublin, has come to an end. This year's pilot edition was attended by almost 280 pupils from 9 secondary schools in Lublin, 11 teachers and 31 students of the Faculty of Pedagogy and Psychology and the Faculty of Economics of UMCS in Lublin. The 'Entrepreneurial Youth' Project is one of the initiatives implemented as a response to receiving the title of European Youth Capital 2023.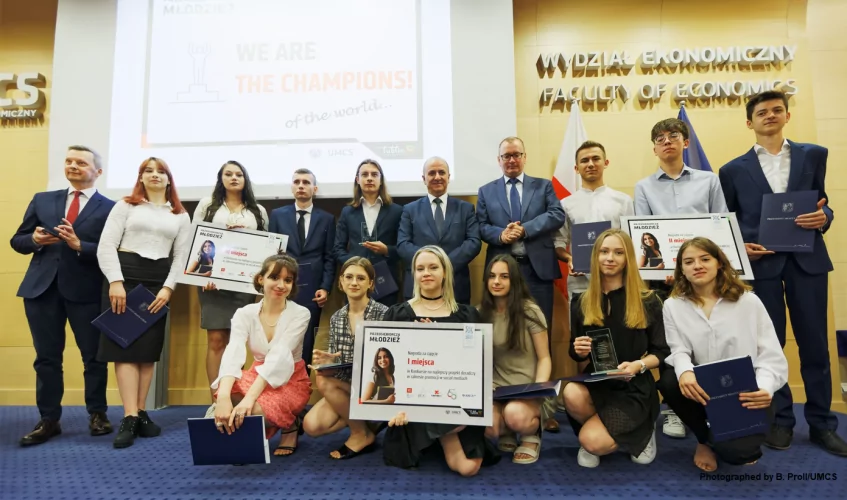 Almost 280 pupils from Lublin schools gained entrepreneurial knowledge, developed creativity and implemented the first serious consulting projects for Lublin entrepreneurs while learning about Lublin's economy. The project gave young people the opportunity to participate in numerous workshops conducted by the UMCS Competence Development Office and the Faculty of Pedagogy and Psychology, such as personality type analysis according to the MBTI method, the art of self-presentation or in workshops organized as part of the Academy of Entrepreneurship UMCS-Santander Universidades 2022.
Thanks to a range of workshops addressed to secondary school students, as well as direct meetings with entrepreneurs, young people had the opportunity to learn, develop entrepreneurial attitudes, and explore the career prospects offered by Lublin. Participation in the projects will undoubtedly help young people to make a conscious decision in choosing the direction of their further education while acquired experience, as well as learned business mechanisms and interpersonal skills, will be useful in their professional life. The "Entrepreneurial Youth" project is an excellent example of learning through practice, says Krzysztof Żuk, Mayor of Lublin.
Young entrepreneurs had also a chance to demonstrate the knowledge and skills acquired during the workshops and create consulting projects for Lublin companies that promote their products on social media. In total, there were over 20 meetings with Lublin businesses and creators specializing in internet marketing, who supported young people in the preparation of their projects.
Creativity, innovation, but most of all, enthusiasm and enormous commitment of pupils during the implementation of individual project tasks fill us with joy and the feeling that the future of Lublin is in good hands. The greatest value of the 'Entrepreneurial Youth' project is its practical dimension. We have created an opportunity for young people to learn about student life and academic culture, but also a chance to undertake real action in the form of implemented projects. The effects of the work and the quality of the prepared projects exceeded our expectations. Participants of the project presented very creative and innovative solutions, adds prof. dr hab. Zbigniew Pastuszak, vice-rector for development and cooperation with the economy UMCS.
The results of the competition for the best consulting project in the field of promotion on social media were announced on June 9 during a final gala crowning the project. The Competition Jury awarded projects implemented by Śródziemnomorskie LO im. św. Dominika Guzmana (1st place), XXX LO im. ks. Jana Twardowskiego (2nd place), XXIII LO im. Nauczycieli Tajnego Nauczania (3rd place).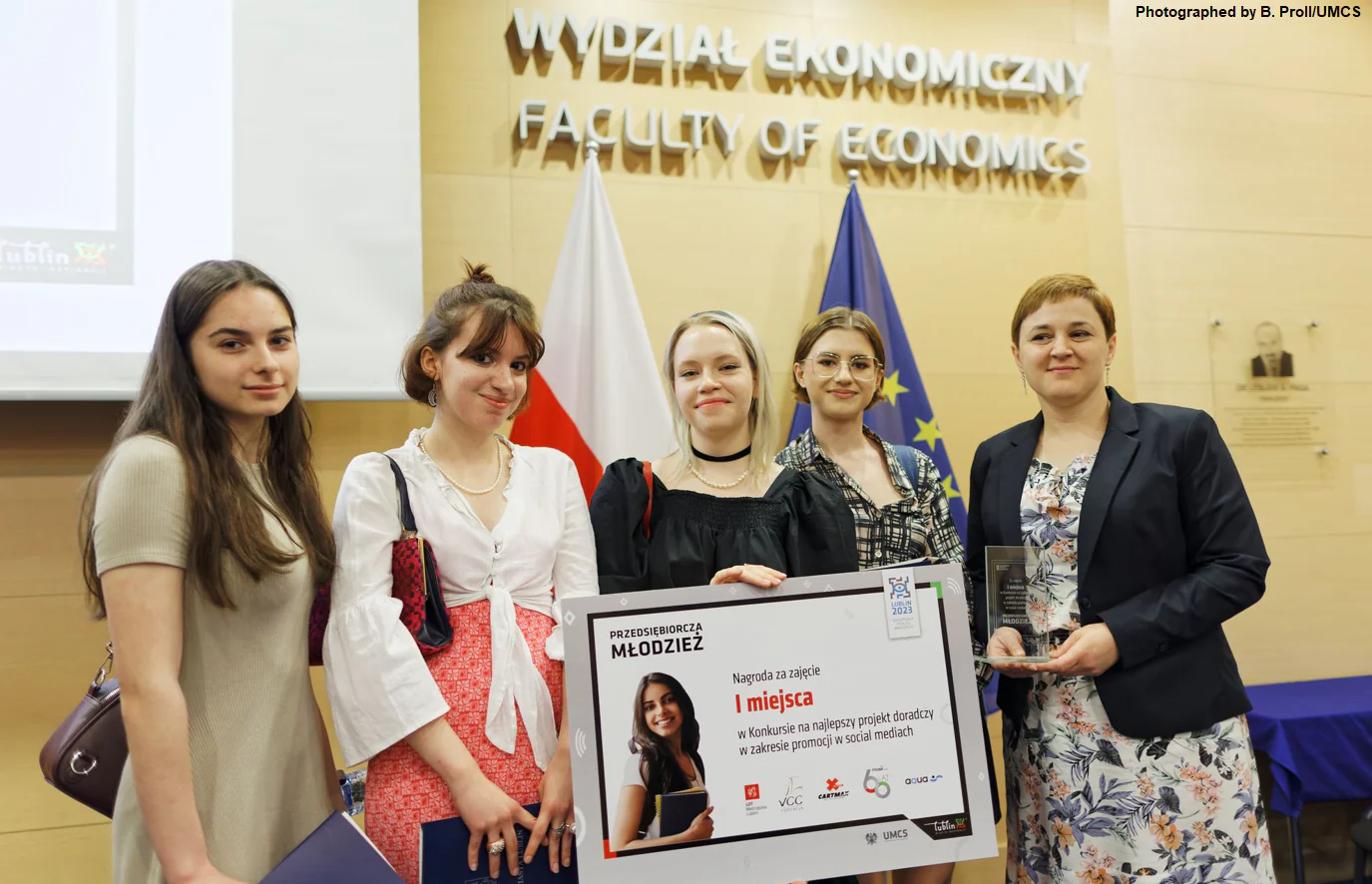 Participants: III LO im. Unii Lubelskiej, XXX LO im. ks. Jana Twardowskiego, XXIII LO im. Nauczycieli Tajnego Nauczania, LO im. Kazimierza Wielkiego, Śródziemnomorskie LO im. Dominika Guzmana, Międzynarodowe LO Paderewski, IX LO im. Mikołaja Kopernika, Akademickie Liceum Mistrzostwa Sportowego, XXI LO im. św. Stanisława Kostki.
Partners companies and institutions: Intrograf Lublin,  Polish Center for Photonics and Fiber Optics, IKEA Lublin, EUROPIEK, Medisept, VCC Foundation, TARASOLA, SKENDE Shopping, 'Pszczółka' Candy Factory, Asseco Data Systems.
Partners – creative industries: eMedia, Trzask.com Piotr Bielecki, Lilianna Trojanowska 'Skuteczne Media', FLOW PR Kamila Belczyk-Panków, 'Format' Studio Ewa Smołka, LuCreate Design. Development Foundation, Everest Marketing Karolina Ślebocka.
Sponsors of the prizes in the competition for the best consultancy project: Municipal Sport and Recreation Centre "Bystrzyca", Aqua Lublin, VCC foundation, CARTMAX, Lublin Metropolitan Tourism Organisation.
Detailed information on the project: https://gospodarczy.lublin.eu/przedsiebiorcza-mlodziez