President Zelensky grants Lublin "City-Rescuer" title
On April 5th, the President of Ukraine awarded Lublin with the title of "City-Rescuer." During his visit to the Lublin region, Volodymyr Zelensky expressed his appreciation for Lublin's dedication to helping Ukrainians and personally granted the noble distinction to Krzysztof Żuk, the Mayor of Lublin.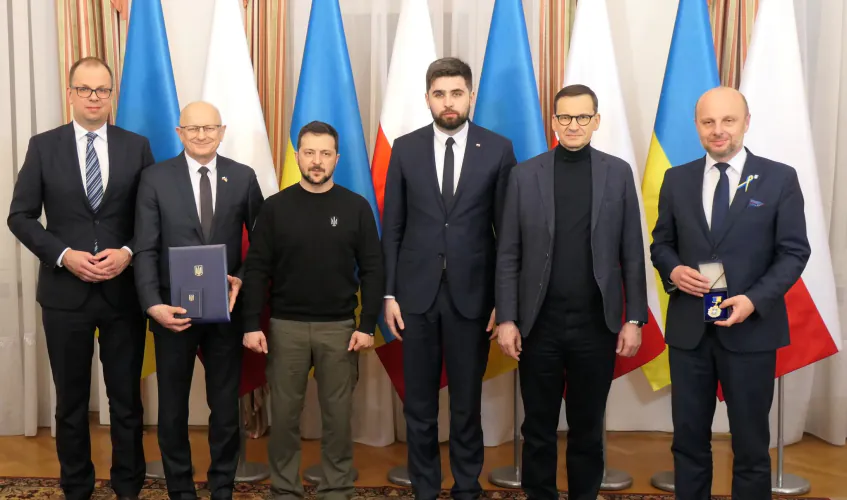 For me, the assistance provided to Ukraine has a human face, embodied by individuals like Olena, who came here with her two sons and could have lost their eyesight due to a rocket strike. However, Lublin ophthalmologists saved their vision. It has the face of Viktoriya, who tirelessly worked for months to support her fellow Ukrainians, and Oksana, who came to Lublin at the last minute before giving birth and required urgent specialist assistance to ensure her and her child's safety. These are just a few of the faces of the thousands of children, women, and men we have assisted in their time of need. I am proud of Lublin's open-heartedness and the thousands of volunteers who have readily opened their homes to strangers in times of crisis. I am grateful for President Volodymyr Zelensky's recognition of our city and its residents for their efforts. Glory to Ukraine, long live Poland, and Glory to the Heroes!, said Krzysztof Żuk, the Mayor of Lublin.
The President of Ukraine recognized Lublin for its outstanding support and solidarity towards the Ukrainian people in their fight for independence and sovereignty. Lublin's proximity to the Ukrainian border has made it a primary destination for Ukrainian refugees seeking shelter. In 2022 alone, over 2 million refugees stayed in Lublin as a transit point, with around 165,000 Ukrainian citizens spending at least one night in the city. It is estimated that during the peak influx, over 68,000 Ukrainian citizens were staying in the city.
The "City-Rescuer" title was established last year by Volodymyr Zelensky as a sign of gratitude to the partner cities that had been engaged in helping Ukraine and its citizens after the Russian invasion. Lublin is among the four cities awarded the title, along with Rzeszow, Przemysl, and Chelm. This is not the first time that Lublin has been honoured for its aid efforts towards Ukraine during the war. In December 2022, Mayor Krzysztof Żuk and representatives of the International Cooperation Center received the "For Assistance to the Army" badges from Valeriy Zaluzhnyy, the Commander-in-Chief of the Armed Forces of Ukraine, as a testament to their invaluable contributions in providing much-needed humanitarian aid to the nation.
Additionally, the Mayor of Lublin was awarded the "For Merit" order by the President of Ukraine on Constitution Day in 2020. This state decoration is a high honour in Ukraine and has been given to distinguished individuals, including notable Poles such as Jerzy Kłoczowski, Zbigniew Brzezinski, and Bogdan Borusewicz.