Smart City Awards honours Lublin's Mayor for exemplary leadership
The Mayor of Lublin, Krzysztof Żuk, has been honoured with the title of Person of the Year 2022 in the Smart City Awards competition. This prestigious recognition was presented to him during the 16th edition of the Smart City Forum in Wrocław, Poland's most important congress dedicated to the functioning and development of smart cities.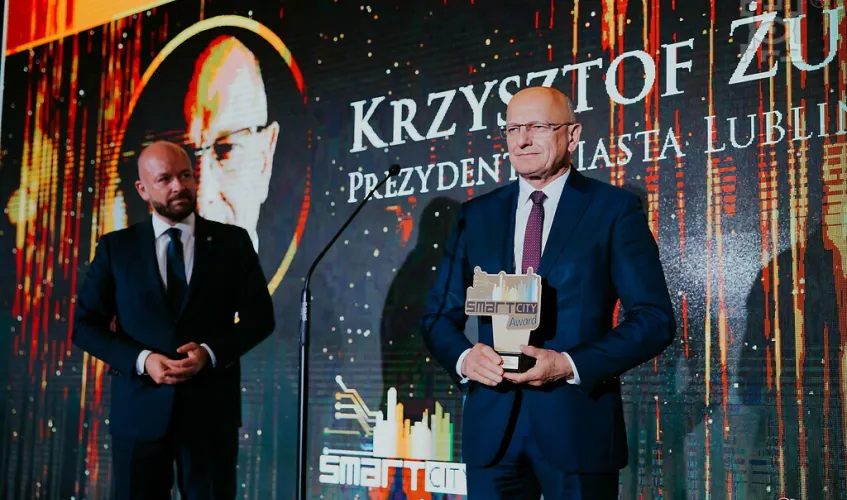 Thanks to our intensive work, Lublin has transformed into a recognizable brand and emerged as one of the fastest-developing cities in Poland. It is an open and livable city. In recent years, we have made significant progress by implementing the largest investments in the city's history, totalling over 5 billion Polish zlotys. We strive to involve our residents in all our activities, working together to shape the future of Lublin, and they are the ones who benefit from our efforts. There are still many challenges ahead, so I see this award as a commitment for the years to come. I am grateful for your trust and the daily support we receive. This award is for all the residents of Lublin, expressed Krzysztof Żuk, the Mayor of Lublin.
Mayor Krzysztof Żuk was recognized as the Person of the Year 2022 due to his longstanding dedication to building a modern and dynamic city, making bold managerial decisions, adopting an innovative approach to city management, and skillfully choosing strategic actions and directions that have transformed Lublin into a place that meets the needs of its residents and embodies the principles of sustainable development.
The Smart City Awards Jury has granted prizes in seven competition categories, recognizing cities, personalities, and initiatives that have significantly contributed to the promotion of smart city solutions in Poland. These awards also recognized representatives from both the business sector and local administration who, through their implementation of projects using innovative solutions and management strategies, have enhanced the competitiveness of Polish cities, economy, and businesses.