The future starts here… Lublin
This is the title of the latest report drawn up by Colliers International and the Municipal Office of Lublin. It is an interesting summary of results of an analysis of the city presenting what citizens, investors and analysts think about Lublin. According to them, Lublin is the most dynamic metropolis in Eastern Poland, comparable to leaders of CEE like Sofia, Vilnius or Zagreb. What makes Lublin stand out from other Polish locations which are also attractive in terms of quality of living and conditions for running a business, is a rapid pace of growth and the extent of the transformation the city has undergone. What are the benefits of Lublin then?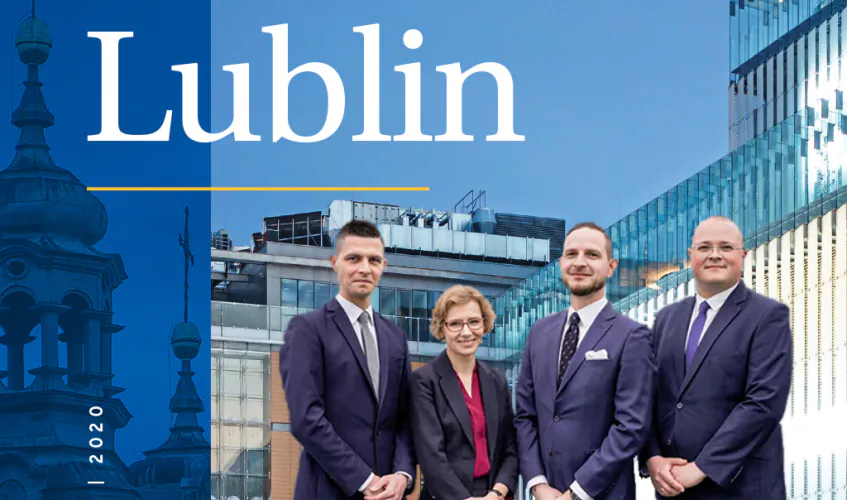 Communication accessibility
With 340,000 citizens, Lublin is the largest city in the east of Poland. As the capital of the Lubelskie Region, which is a border region of the European Union, Lublin is an important communication hub for cross-border traffic. Thanks to the Lublin Airport and new road investments, including S19 express road that is part of Via Carpatia transportation corridor, Lublin gains importance in the context of communication between the north and the south of Europe.
The Lublin Metropolitan Area is home to more than 600,000 people living in both the city and neighbouring communes. The trolleybus network is one of the Lublin's landmarks. By consistently investing in eco-friendly transportation system, Lublin is approaching a zero-emission rate of 50%. The city also supports electromobility for private vehicles by installing charging stations for electric cars. Lublin is also about sharing mobility – citizens and visitors can enjoy electric scooters, mopeds and city bikes, and the municipality boasts a network of 170 km of bicycle paths.
Well-qualified workforce
Undoubtedly, one of Lublin's competitive edges is the availability of highly-skilled workforce who obtain their education at 9 universities and colleges. Over 10% out of almost 62,000 students are foreigners, which is a proof of a high scientific level and attractive educational offer of the city's academic institutions. Interestingly, the Lublin's labour market is characterized by a relatively low attrition rate in priority sectors of local economy, including ICT, automotive, machinery, aviation, medicine and biotechnology.
Modern office space market
It terms of supply, Lublin is the seventh biggest regional office market in Poland, and the same time the leader in Eastern Poland. When looking at the tenant structure, offices in Lublin are leased predominantly by companies representing business services and the booming IT sector, which translates into the increased demand for new spaces. Lublin is very competitive also because of favourable terms of lease, which results in the growing interest of both developers and tenants.
THE location for industry
The economic growth of the city and quickly improving road infrastructure in the region contribute to the increased interest of warehouse developers, and international players like Panattoni, MLP or Goodman have all invested here. As of December 2019, the entire existing warehouse space in Lublin is occupied. Aware of the city's potential, the investors prepare lands for new warehouses, and their offer includes spaces which are either prepared, or under construction.
High quality of living
Lublin is a city that is proud of its 700-year history created by its multicultural community. Traditions and the old past are now reflected in cyclical events, which every year attract hundreds of thousands visitors. Both tourists and citizens benefit from a wide offer of excellent restaurants, pubs, clubs or modern sports facilities. What is more, the conference infrastructure of Lublin accommodates almost 2 thousand business events annually.
I strongly encourage you to read this report, visit Lublin and get to know the investment opportunities it creates. Undoubtedly, Lublin is a place to remember."

Łukasz Goś, Head of Investor Relations, Lublin Municipal Office
The full report is available here.