Three dimensions of Lublin
Lublin, as the second city in Poland, has its own 3D model. It creates new possibilities for urban planners, architects and land surveyors supporting their analyses and thematic papers. The model is available at lublin3d.lublin.eu.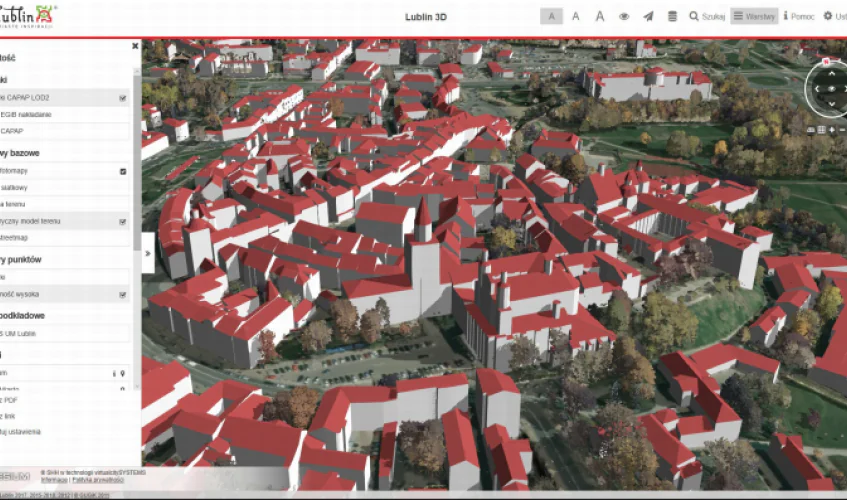 "Our city follows the growing trend of management using 3D modeling. The three-dimensional model built for Lublin's needs is the next step is developing our smart city. This solution will be used in both participatory and development activities", says Mayor of Lublin Krzysztof Żuk.
For some years already, 3D models are used by many European cities, including Berlin, Rotterdam or Helsinki. The Lublin's 3D portal, along with its set of tools to update and publish data, allows not only for presenting the current shape of the city, but also reflecting the changes that happen over time.
"Lublin is the second Polish city, after Poznań, boasting its own 3D model. The portal will become an important tool to support the city's activities in terms of attracting direct investments and it will boost the business offer of Lublin which we present to investors", says Deputy Mayor of Lublin Artur Szymczyk, who is responsible for city's investments and growth.
The 3D portal features visualisations of various analyses, e.g. environmental studies like a presentation of the solar energy potential of a building or visualisation of the noise distribution. The 3D model was built as an object model, thus it can be used to integrate outcomes of different sectoral analyses and export to applications allowing for preparation of urban analyses. Lublin's 3D model will be used together with its 2D forebear during investment processes and public consultations, which will make a designing process of new developments more transparent, while stakeholders may see how they impact on the street, neighbourhood or the city as a whole.
Business asset
The Lublin's 3D portal is an innovative tool that responds to the needs of modern businesses, as it creates completely new possibilities of presenting potential investors with comprehensive spatial and visual materials about the city and its investment sites. Portal functionalities allow for taking 3D measurements and displaying draft spatial objects, which are in the design phase, on the map. This will widen the spectrum of purposes such materials can be used for, both when promoting the investment offer of Lublin among Polish and foreign businesses and preparing visualisations of investment projects to be sited in our city. Functionalities of the 3D portal also allow for exporting maps to a PDF file or a URL link, which will significantly facilitate communication between the city's authorities and business.