Tutlo expands its presence in Lublin with second office and new jobs opportunities
Tutlo, an online English language school, has recently opened its second office in Lublin, marking the 17th branch of the company nationwide. The official opening, which was co-organized with the City of Lublin, took place on April 19th this year.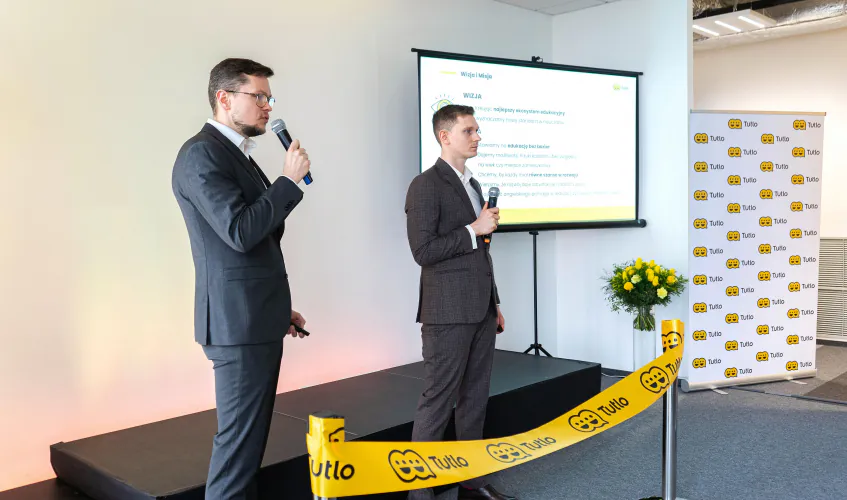 Tutlo is a leading online English language school that was established in 2015. It offers modern English language courses that enable students to learn flexibly and efficiently online with the guidance of live tutors, without the need for prior scheduling. The company currently works with over 1,300 native speakers and Polish lecturers of English, providing its services to over 30,000 customers, and employing a talented team of over 350 individuals. In addition to its individual learner services, Tutlo also provides customized solutions for the B2B segment, collaborating with nearly 500 companies and global corporations across various industries, including IT, FMCG, manufacturing, pharmaceuticals, logistics, and transportation.
We recognize the immense potential of the young residents in Lublin. They are driven, committed, and passionate – precisely the type of people we are eager to welcome into our Tutlo team. We highly value these qualities at our company and do not limit our employees' potential. We have individuals in our organization who started as consultants and have now risen to management positions. That is why I am thrilled that we can offer the opportunity for further growth and development in Tutlo to even Lublin residents, states Tomasz Jabłoński, co-founder and board member of Tutlo.
Tutlo currently has three teams operating in Lublin branches: call centre, lead qualification centre, and sales. With a strong focus on growth and development, the company plans to expand its team to 200 employees within the next year. Moreover, in the future, Tutlo aims to create additional departments, including marketing.
We have offices located in several cities, but it's Lublin that stands out in terms of employment growth. This city is home to numerous young and dedicated professionals who share our values and vision. We keep receiving impressive CVs and conducting productive interviews with applicants which is precisely why we have decided to open another office in Lublin. Our future plan is to merge them into one larger branch that will employ around 200 people within a year's time, says Damian Strzelczyk, co-founder and board member of Tutlo.
Tutlo, however, is not only focused on developing young talents and creating new job opportunities in Lublin. The company is also committed to promoting linguistic education among the younger generation, raising awareness of the importance of English proficiency in both personal and professional life, as well as supporting children in need in enhancing their language skills. To achieve this, the company has launched a free programme called "A Native Speaker in Every School." As part of it, a native speaker collaborates with English teachers in a given school to conduct inspiring language workshops for students in grades 4-8. After that workshops, the students receive a voucher for three private English lessons at Tutlo's online language school. Meanwhile, schools are given vouchers for English language courses at Tutlo, dedicated to the neediest and most talented children. This year, over 260 workshops have already been conducted under the programme, involving more than 3,000 students. Tutlo has also provided 50 scholarships to children from the most disadvantaged families. By the end of 2023, the company plans to conduct workshops in at least 100 schools for over 20,000 students.
Participation in the programme is open to every primary school. More information about it and the registration form can be found at: https://hello.tutlo.com/ns-w-mojej-szkole.